Orto-Mate Utility
Management System
Remote meter reading and switching of site power and water
Orto-Mate Utility Management system offers unmatched control of your site utilities from the convenience of your park office. Orto-Mate allows for the remote monitoring and reading of site power usage, enabling user pays systems for long-term and short-term stays. Additionally, Orto-Mate enables the remote switching of site utilities. Remote switching prevents unauthorised use of site power and doubles site functionality, allowing sites to be rented as either powered or unpowered.
We were searching for a system that allowed our customers the freedom to use electricity as they needed but gave us peace of mind over our electricity costs.

Orto-Mate is cleverly designed and allows us to bill our customers for their electricity use from the convenience of the park office.

Those who use more pay more, those who use less pay less, ensuring a fairer system for all our customers, and for us!

John & Michelle Young, Mackay Blacks Beach Holiday Park
Features
Remote meter reading and monitoring.
Remote switching of site power and water.
Includes user-friendly Orto-Mate software, which can be used as a stand-alone billing system or integrated into an existing booking management software.
Customized billing schedules (monthly, quarterly, yearly).
Plug and play 12V hardware for ease of installation and maintenance.
Ongoing technical support available.
Increase flexibility – Sites can be used as powered or unpowered sites to suit customer demand.
Business hours
8.30am – 5pm
Monday to Friday
Melbourne (Eastern Standard Time)
Visit our Contact page for email and other options
Technical details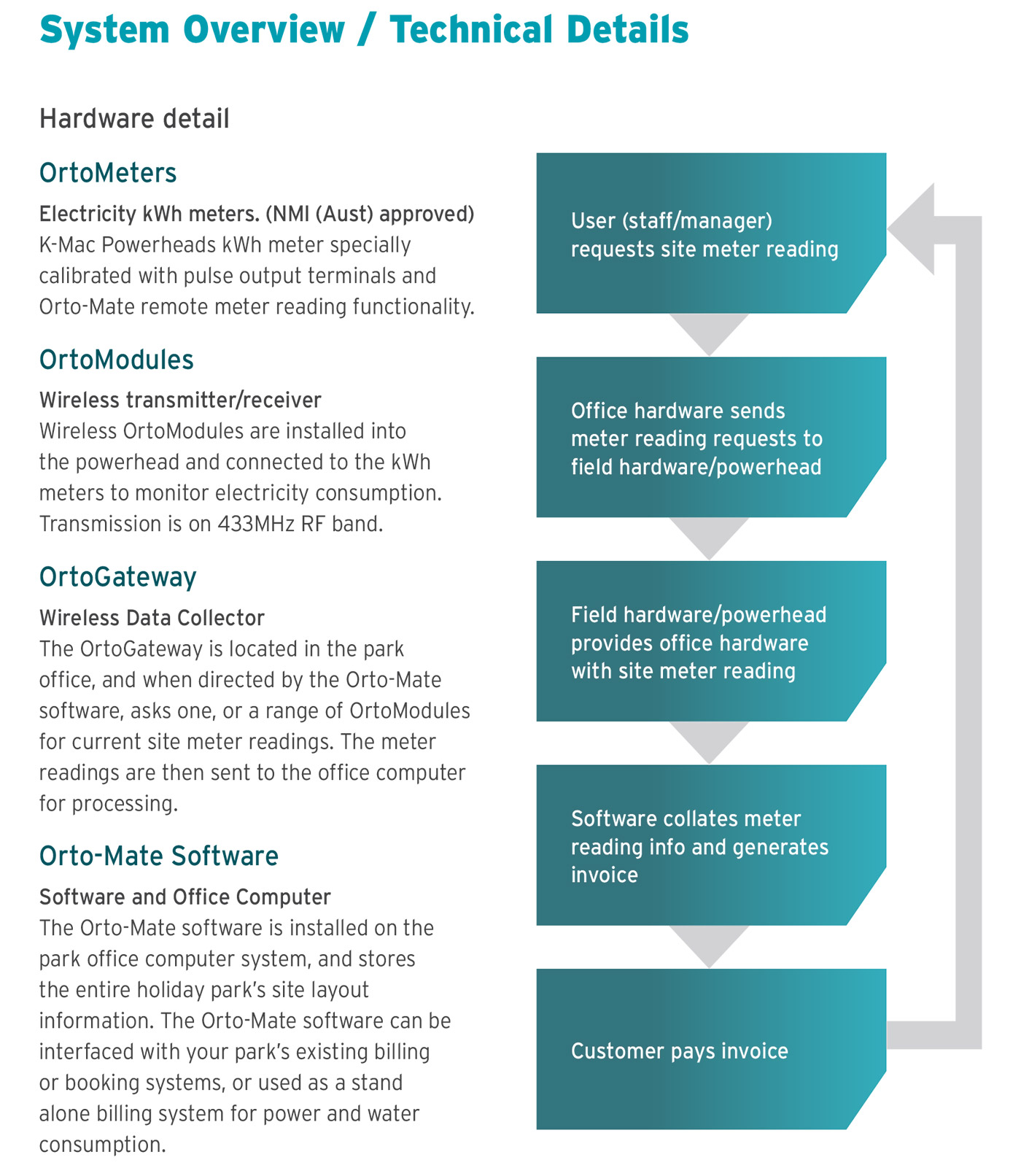 (Click to view full size)